Catching Up
Posted by Alexander Dymo on May 20, 2007
Uh, I have discovered I haven't blogged since March. Not that nothing happened, contrary a lot of cool things were in those two months.
First, there's a lot things done in KDevelop. I was overloaded with work and PhD so didn't do any hacking but other guys worked really hard. Dukju continued his crusade against svn ;) Andreas and Matthew dug into version control interfaces and infrastructure like mad.
In fact, they sent so many emails to the kdevelop-devel mailing list so I believe now we beat the nosiness record on what was renowned as a very silent list :) And that's actually great. It indirectly indicates the amount of energy and potential in KDevelop community. We're keen, we're eager and we're kicking :)
Oh, and there's one more thing I forgot to mention about. Andreas got KDevelop working on Windows (see the obligatory screenshot below). So KDevelop is now as multiplatform as possible. Unix, Mac OS native, Windows native is all possible with Qt4 and KDE4! So, if you're still using Eclipse or something like that just because it works for you on Windows, tune up and keep an eye on KDevelop4. We will be multiplatform once we release ;)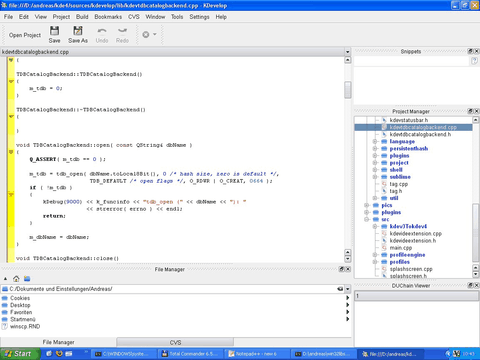 Among the cool things happened last time is that I finally visited US :) I never had the chance to go there before, but it looks like my chances grew a lot after I became Ruby/Rails developer at Pluron company. So now I'm sitting at the Oregon Convention Center in Portland listening to the one of the RailsConf 2007 talks! I think I'll blog about RailsConf soon.
Btw, have I already mentioned that Pluron is a cool place to work? ;) If you read this, live in Ukraine and is a cool programmer/sysadmin/designer/QA specialist, drop me a note, we're hiring.